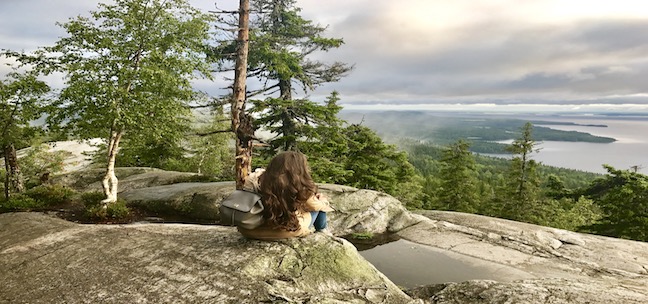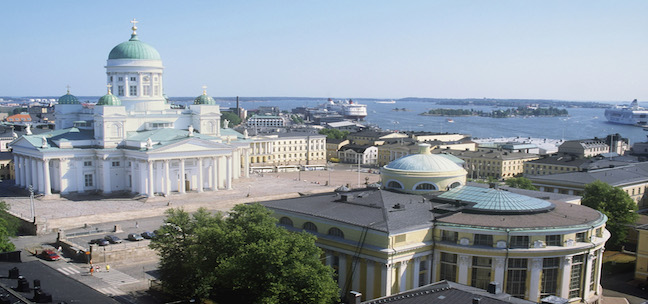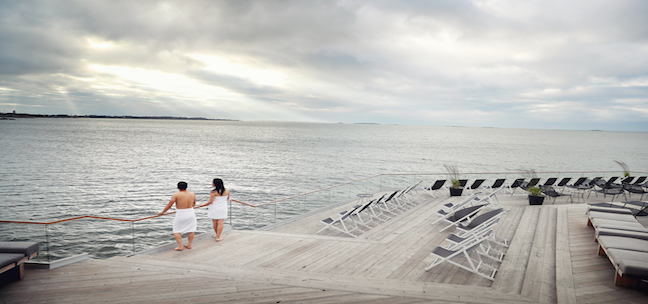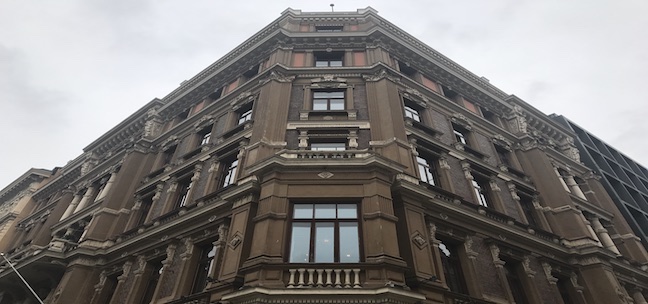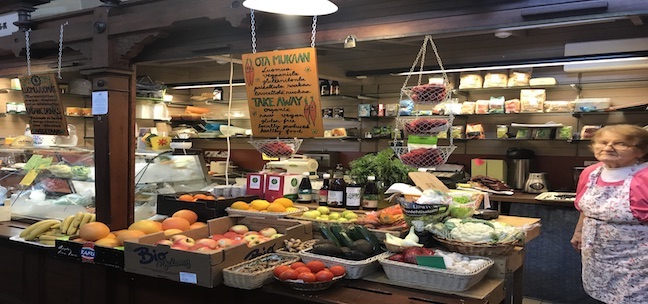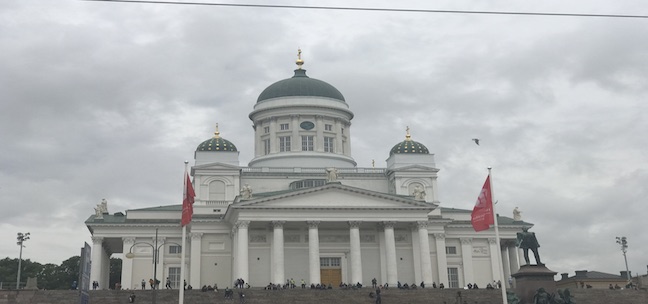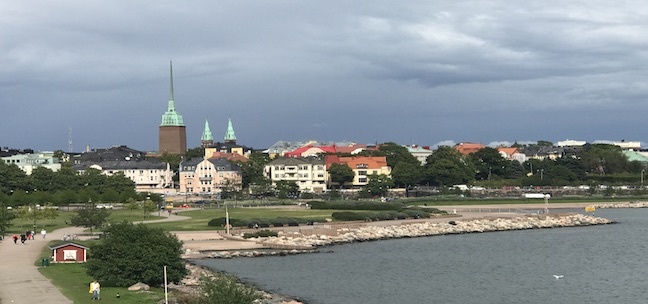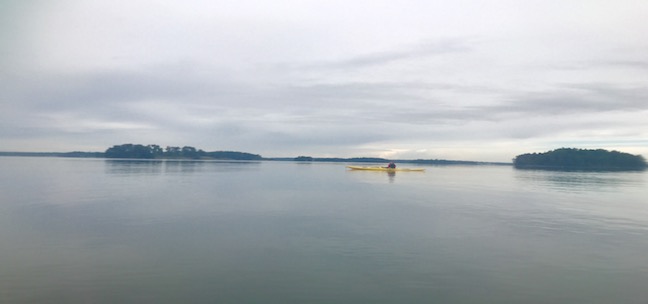 At A Glance
Bordered on the west by Sweden and the Gulf of Bothnia, Finland is one of the few countries that is still emerging by about seven square kilometers per year after the end of ice age. Finland has many islands as well as rivers making it the perfect place for our adventure travelers. Camila
Book
Itinerary
DAY 1 – Arrive in Helsinki and check in at Hotel Kamp. Take a short walk to Market Square, Market Hall. After Market Square take a guided food & design tour on foot around the historic city. Visit Senate Square and Tori Quarters for historic moments. Also visit the Aalto House, Artek shop, and Tre the three main places of Helsinki!
DAY 2 – Eat breakfast at the hotel and take a bus to join Natura Viva's kayak tour to explore the Helsinki nature. Paddle through the archipelago of Helsinki, characterized by clear water, rocky island and sandy beaches. Return to hotel, lunch at leisure. Enjoy the LÖYLY DESIGN SAUNA with the beautiful view to the Gulf of Finland. Lastly diner will be at the island restaurant Saari just by the open sea.
DAY 3 – Eat breakfast at the hotel and after that transfer to the airport. Taking an hour trip from Helsinki to Joensuu will let you meet your local host. Take a tour to the Artisan's Quarter and experience Taitokortteli, a handcraft and culture quarter in the center of Joensuu. Taken another trip to Bomba and check in at the Break Sokos Hotel. Brief site inspection of the hotel and Bomba will be done. Lastly, a Karelian style dinner at Puukarin Pysäkki.
DAY 4 – Eat breakfast at Bomba, then take a trip to Ruunaa where you will shoot the rapids of Ruunaa Hiking Area with traditional wooden boat. On the way to Koli, another trip that will be done, you will get a coffee break at Mattila. After coffee break, there will be a check in at Break Sokos Hotel Koli. A hiking trip will take place to get to know the best of Koli. When done with hiking, a pampering and relaxing in one of Finland´s most amazing spas Koli Relax Spa will be waiting. The day will end with a delicious meal at Grill it!
DAY 5 – Breakfast at the hotel in the morning, and after that take a flight from Joensuu to Helsinki. Departure from Helsinki back home
Book
Detailed Itinerary
Day 1 – Group transfer to the hotel
12:15 PM meet at the hotel lobby for a short walk to the Market Square, Market Hall
12:30 PM-2:00 PM Happy Guide Food & Design tour on foot. Our guide is Mr. Matti Väisänen
+358 504664812. Finish history by food tasting with happy guide Helsinki. Helsinki is an excellent city to understand the history of Finland through different kinds of classic culinary treats that you can taste at market places and cafes in the historical center of the city. Your tour is hosted by Happy Guide Helsinki that specializes in culinary and other theme tours, offering them all with sustainable solutions. [email protected]

MARKET SQUARE, MARKET HALL
MARKET SQUARE The Old Market Hall – A combination of traditional and contemporary flavors The Old Market Hall next to the Market Square has served its customers since 1889 and was reopened for summer 2014 after a complete renovation. Stall keepers who have served customers for decades have returned and are joined by attractive new restaurants and cafés.

SENATE SQUARE AND TORI QUARTERS
The historic Tori Quarters that lies between the Market Square and Senate Square has been revitalised in recent years and is now home to numerous cafés, restaurants, Finnish design and handicrafts. A wide range of events are also held there Almost half of the Tori Quarter, the historic heart of Helsinki, will form the new Helsinki city Museum. One of the museum's main attractions is the Time Machine, a space utilizing new technology into which anyone can enter and experience the Helsinki of the past.

2:00 PM: BUS TRANSFER TO AALTO HOUSE

2:30 PM -3:30 PM Meet the Helsinki guide and visit the ALTO House.
You´ll meet your guide Ms. Anni Mäkilammi tel. 040 552 6323 at the entrance hall. In 1934, Aino and Alvar Aalto acquired a site in almost completely untouched surroundings at Riihitie in Helsinki's Munkkiniemi. The Aalto House is a cozy, intimate building for living and working, designed by two architects for themselves, using simple uncluttered materials. The Aalto house, address: Riihitie 20, 00330 Helsinki

4:00 PM: VISIT TO ARTEK SHOP
Artek was founded in 1935 by four young idealists: Alvar and Aino Aalto, Maire Gullichsen, and Nils-Gustav Hahl. The business strategy of the company was "to sell furniture and to promote a modern culture of living by exhibitions and other educational means". Today Artek is renowned as being one of the most innovative contributors to modern design, creating new paths at the intersection of design, architecture and art. Artek shop, address: Keskuskatu 1B, [email protected],

4:30 PM-5:00 PM: VISIT TO TRE
Helsinki has got a new flagship store for design as TRE opened its first brick'n'mortar at Mikonkatu 6. The 400 square meter concept store is filled with the biggest collection of Finnish design and fashion. They have selected the best classics, newcomers, and unexpected combinations for you to discover. Contact person Salli Raeste [email protected] (tel. +358 40 324 6768)

5:00 PM-6:30 PM FREE TIME FOR INDEPENDENT EXPLORING OF HELSINKI

7:00 PM Dinner TBA
Day 2— Breakfast at the hotel
9:30 AM BUS RIDE
Your bus is waiting for you next to the Sokos Hotel Torni Address: Yrjönkatu 26
Transfer to Vuosaari Paddling Center Address: Harbonkatu 13, 00980 Helsinki.

JOIN NATURA VIVA'S KAYAK TOUR TO EXPLORE THE HELSINKI NATURE!
Natura Viva's representative will meet you at the Vuosaari Paddling Center where the tour starts. The beautiful nature awaits you just outside the city center – an amazing contrast to hassle and buzzle of downtown Helsinki. The thousands of islands along the Finnish coastline provide a unique nature experience. Our paddling trip will take you to the archipelago of Helsinki, characterized by clear water, rocky islands and sandy beaches The tour takes place at the Vuosaari Paddling Center and suits beginners and experts alike. The kayaks are easy to handle and very stable. We will provide you all kayaking equipment, also for rainy weather. We recommend sporty clothing for the trip. Natura Viva´s guides are professional guides. No previous paddling experience required.

10 AM- 12:30 AM SEA KAYAKING
Schedule After arriving to Vuosaari Paddling Center you will get a brief on kayaking in Helsinki area and gearing up for the tour.

LUNCH
Lunch will be a salmon soup that is served after the tour. During the lunch, you´ll get an overview of Natura Viva´s and Hel Out Adventures' tour packages for travel agencies. Arrival to Vuosaari Paddling Center. A short introduction of Hel Out Adventures, a brief of Kayaking in Helsinki area and gearing up for the tour.

12:30 PM TRANSFER TO LÖYLY DESIGN SAUNA Address: Hernesaarenranta 4, tel. +358 9 6128 6550

1:00 PM-3:00 PM LÖYLY DESIGN SAUNA
Enjoy the Löyly sauna steam and the beautiful view to the Gulf of Finland! Löyly an urban oasis occupying a stretch of beautiful Helsinki waterfront, offers a warm welcome and many delights for locals and visitors alike. On a beautiful summer's day, their terrace is the place to be and the saunas are available daily. While Löyly offers exceptional architecture in a unique location, it is the owners' commitment to sustainable business and green construction that truly sets them apart. The environment has been their number one consideration throughout the project, informing everything from their choice of FSC certified building materials to their menu. NOTICE! You´ll get your towels at the sauna reception but you have to have your own swimming costumes with you. Separate changing rooms and shower facilities for men and women but as the saunas and other public areas are mixed; bathing suits are worn at all times.

3:00PM-3:30 PM TRANSFER BACK TO HOTEL

3:30 PM - 5:30 PM FREE TIME FOR INDEPENDENT EXPLORING

5:45 PM MEETING AT THE LOBBY
Transfer from the hotel to Merisatama pier, next to Café Carusell

6:20 PM BOAT CONNECTION: MERISTAMA TO THE RESTAURANT SAARI

6:30 PM - 8:30 PM DINNER AT THE ISLAND RESTAURANT SAARI
Taste of Finland by the open sea! Restaurant Saari is located on the island Sirpalesaari just a stone's throw from the center of Helsinki. Saari provides the best Finnish delicacies of the season from land and sea as well as stunning views and genuine maritime atmosphere. A boat serves the island every 20 minutes during restaurants' opening hours from the Saari pier located on the shore of Merisatama. The crossing takes only a couple of minutes. Address: Sirpalesaari island, tel. +358 9 7425 5566, [email protected]

8:40 PM BOAT TRANSFER AND TAXI BACK TO HOTEL
Day 3 – Breakfast at the hotel

7:30 AM TRANSFER TO THE AIRPORT

9:40 AM TAKE A FLIGHT FROM HELSINKI TO JOENSUU
Finnair flight #487 from Helsinki to Joensuu ; Arrival at 10:40 am

You will meet your local host Ms. Anna Jetsu at the airport (tel. +358 400 311 213)

11:15 AM THE ARTISAN'S QUARTER - in Joensuu city center
Taitokortteli is a handcraft and culture quarter in the center of Joensuu. The diverse services include multiple boutiques and shops and a craft center as well as high-quality exhibitions and other events that are arranged at the premises. Lunch on premises.

1:00 PM TRANSFER TO BOMBA
The Bomba Karelian Village offers hotel and restaurant services, a spa, tourist activity services, summer market, summer theatre and an Orthodox prayer hut. Suojärvenkatu 1, 75500 Nurmes, Finland.

3:00 PM CHECK IN
Check-in at Break Sokos Hotel Bomba Tuulentie10, Nurmes

4:00 PM SITE INSPECTION
Site inspection at the Hotel & Bomba area

5:30 PM TRANSPORTATION
Transportation to Valtimo (Puukarin Pysäkki)

6:00 PM DINNER
Karelian style dinner at Puukarin Pysäkki

After dinner: transportation back to the hotel with an introduction to "Guesthouse to Guesthouse tour products"
Day 4 – 7:30 AM Breakfast at Bomba

8:15 AM Departure for Ruunaa (app 1 hour)

10:00 AM View of Ruunaa
Shoot the rapids of Ruunaa Hiking Area with traditional wooden boat, picnic dinner included

1:30 PM Departure for Koli (app 1 hour)

2:30 PM COFFEE BREAK
Coffee break at Mattila in Koli area

3:30 PM CHECK-IN
Check-in at Break Sokos Hotel Koli Yla-kolintie 39, Koli

4:15 PM HIKING
Get to know the best of Koli by hiking

6:00 PM SPA TIME
Pampering and relaxing in one of Finland´s most amazing spas Koli Relax Spa

8:30 PM DINNER
Dinner at Grill It! -restaurant in-house
Day 5 – Breakfast at the hotel

8:45 AM FLIGHT
Finnair flight #482 from Joensuu to Helsinki

Arrival at 9:45 AM

Departure back home