Daniel Boulud
888.212.6444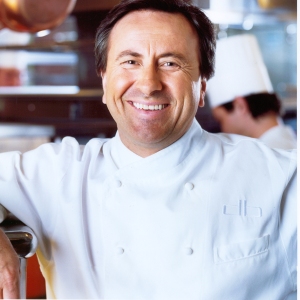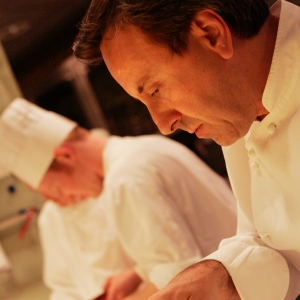 At A Glance
While he hails from Lyon, Daniel Boulud dazzles palettes in Palm Beach (CAFE BOULUD), Las Vegas (DANIEL BOULUD BRASSERIE), Beijing (Maison Boulud, in Beijing's Legation Quarter) and New York (DANIEL, CAFE BOULUD, and DB BISTRO MODERNE). Chef Boulud has mastered the culinary scene. Chef-Owner of the five award-winning restaurants and the Feast & Fêtes catering company that make up Dinex Group.
Got a question? Call us 1.888.212.6444
Itinerary
CHEF DANIEL BOULUD
While most of my travel is for business, no matter what the reason for the trip, each one provides a fresh perspective and an important departure from my everyday routine. My travels are a great source of creativity with ideas and inspiration occurring from unexpected sources. On a recent trip to Japan at a traditional lunch with friends, I will never forget the soft-boiled eggs that were cooked in a warm natural spring adjacent to the restaurant. Each egg came with a certificate signifying the specific hen that had laid it. The restaurant owner took great pride in telling us of the special care and feeding of these prized hens. I am sure I started cooking eggs when I returned to NYC.
It would be easier to list the place I would still like to go than list all those I have visited so far. I recently took my daughter to Machu Picchu and now, I am dreaming of a wonderful trip to India.
The South of France is my favorite destination. I have many friends there. It is full of nostalgic and sentimental memories for me from both my childhood and the early days of my career as a chef. I love the restaurant Le Merenda. It is my favorite restaurant in Nice. No phone, no reservations and just about 25 seats. Stop by in person in the afternoon to request a table for the same night. It's worth it for the cooking of Dominique Le Stanc. I also love the cooking of Chef Daniel de Savie in Valbonne. We worked together at the Moulins de Mougins in the late '70's. This is a charming country place run by a wonderful couple who make honest and pure cuisine Provençal. Have the Zucchini flowers and local seafood.
My Favorite Hotels –
Cala di Volpe, Sardinia
Hotel Martinez, Cannes
Kempinski The Commune by the Great Wall, China
Highlights of My Recent Travels -
* The new spa at Georges Blanc, a Relais & Châteaux in Vonnas, France
* Fresh grilled fish for lunch on the seaside terrace of the Cala di Volpe in Sardinia
* Skiing out of your bedroom door from The Little Nell in Aspen
* Penthouse suite with a south-facing terrace at the Sunset Tower in Los Angeles. I am there now taping the second season of my "After Hours with Daniel" series for Mojo TV.
Detailed Itinerary
Daniel Boulud is the Chef-Owner of the five award winning restaurants and the catering company Feast & Fêtes that make up The Dinex Group. He is also the author of six cookbooks and the creator of a line of "Connoisseur" gourmet products. While he hails from Lyon, it is in New York that he has truly mastered the culinary scene. Boulud's style is marked for his unique use of the time honored French technique and the finest seasonal American ingredients.
Over the last two decades, in addition to the artistry he performs at his New York City restaurants: DANIEL, CAFE BOULUD, and DB BISTRO MODERNE. The chef has also opened CAFE BOULUD IN PALM BEACH and DANIEL BOULUD BRASSERIE at the Wynn Las Vegas Resort. This fall will witness the opening of Bar Boulud, a casual bistro and wine bar coming to Manhattan's Lincoln Center neighborhood. In December 2007, the chef will take his talents much further a field with Maison Boulud, a French fine dining restaurant destined for Beijing's Legation Quarter, an elegant complex of former consulate buildings.

Boulud's culinary accolades include the James Beard Foundation awards for "Outstanding Restaurateur" "Best Chef of New York City" and "Outstanding Chef of the Year". His restaurant, DANIEL, has been named "one of the ten best restaurants in the world" by the International Herald Tribune, received Gourmet Magazine's "Top Table" award, a coveted four star rating form The New York Times as well as Wine Spectator's "Grand Award" and New York City's top ratings for cuisine, service and decor in the Zagat Survey.
In 2006, Boulud was made a Chevalier de la Legion d'Honneur by the French government.
Daniel Boulud's most recent endeavors include the After Hours with Daniel series on INHD TV and "Braise: A Journey through International Cuisine" was recently nominated for a James Beard Foundation cookbook award.